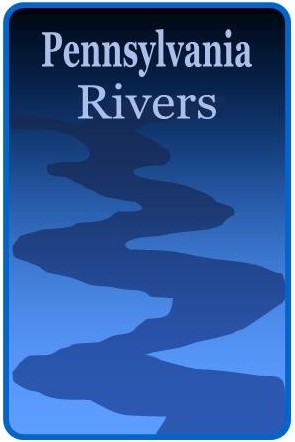 The journey from stream to ocean begins in our backyards and farms.

Precipitation comes down, literally, everywhere—in many forms. It may rain, hail, snow or sleet. Once it reaches the ground some water is absorbed by trees and other plants.

Water not absorbed by roots enters the ground water supply. Most water runs off the surface, down a hill and eventually into a river.
The Water "Network"

If you've ever studied a map in detail, you will notice how rivers and streams form a network of waterways across Pennsylvania.
Streams come together to form small rivers.

Small rivers join together and become medium-sized rivers.

All these rivers may be tributaries of a large river.
Collectively, the network of rivers and streams form a watershed which drains the land of excess water.

Rivers
Think about rivers as excess water disposal machines.

Rivers transport water from wherever it is to the
ocean.

In places where it rains more there are more rivers
and streams to deal with the large and consistent
annual rainfall.
Brief History of Pennsylvania Rivers
---
Long before there were highways and railroad tracks, the earliest residents of Pennsylvania moved from one area of the state to another by using the Commonwealth's natural "roads" – more than 83,000 miles of
On a rainy day look out the window and see if you can determine where the water goes during a rain shower.
Does it flow down the street?
Does it flow down your backyard?
Are there man-made devices to capture or navigate rain water?
What natural features are present that move water into the banks of streams and rivers?
rivers, creeks and streams.
Through the years, Pennsylvania's waterways provided not only a way to move people, but a way to move products where they needed to go. In the early 1800s, a system of 1,200 miles of canals was set up to float people and products to their destinations. The use of canals declined in the mid 1800s as railroads roared into Pennsylvania, taking both the passengers and freight that needed to be moved.
Today, the rivers and streams of Pennsylvania provide opportunities for:

Camping.

Fishing

Hiking.

Canoeing and boating.

A home, water and/or food for most species of wildlife.
Special care is being taken to prevent pollution or alleviate it if it already has occurred.
Rivers in Pennsylvania are classified by the Pennsylvania Scenic Rivers Act as:
Rivers may have more than one designation.
For information about the conditions of the streams and rivers in Pennsylvania, the threats to the Commonwealth's stream and river habitats, examples of wildlife that live in or along the waterways, or actions being taken to preserve the waterways, contact the Pennsylvania Game Commission.
Contact the Pennsylvania Fish and Boat Commission for a map of Pennsylvania's water trails (boat routes suitable for canoes, kayaks and small motorized watercraft) or information regarding launch permits and paddling safety tips.
Pennsylvania Rivers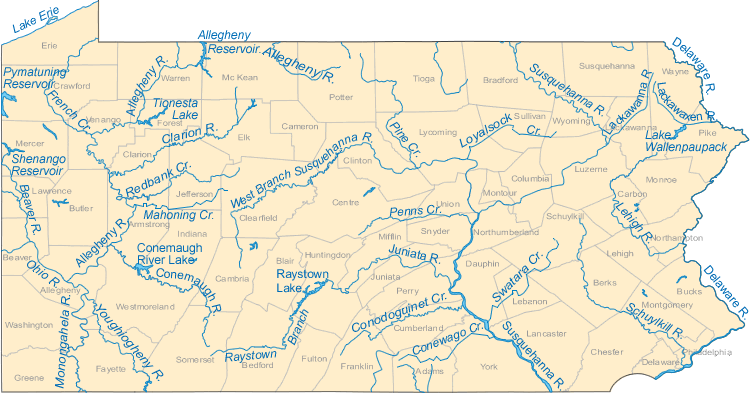 Allegheny River, which rises in north central Pennsylvania about 10 miles south of the border with New York, is approximately 325 miles long. From its beginning point, it flows west, then takes a turn north into New York before it re-enters Pennsylvania. It flows in a zigzag pattern across Pennsylvania, forming part of the northern boundary of the Allegheny National Forest. The Allegheney River, sometimes spelled Allegany River, enters Pittsburgh in the city's northern surburbs, then joins the Monongahela River downtown to form the Ohio River.
Beaver River, which rises in Lawrence County in western Pennsylvania, flows generally south for approximately 21 miles, roughly paralleling the Pennsylvania-Ohio border..
Casselman River rises in western Pennsylvania and arcs up across Somerset County, Pennsylvania, to the community of Confluence, where Laurel Hill Creek joins it just above the Youghiogheny River.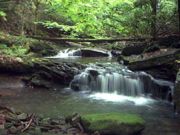 Cheat River is formed in West Virginia, where a hydro-electric dam just across the border from Pennsylvania causes it to widen into an area known as Cheat Lake Reservoir. It then crosses a short distance through Fayette County, Pennsylvania, before joining the Monongahela River. The Cheat is one of the largest undammed watersheds in the eastern United States.
Chemung River rises in New York, but flows east-southeast across northern Pennsylvania until it joins the Susquehanna just south of Sayre. Its length is approximately 45 miles.
Christina River, while only 35 miles long, extends into three states – Pennsylvania, Maryland and Delaware. It rises in southeastern Pennsylvania in Chester County, then flows south across a corner of Maryland, and finally east, past downtown Wilmington, Delaware, where it forms the city's harbor for traffic on the Delaware River.
Clarion River forms in Elk County where the East Clarion River and the West Clarion River meet, then flows generally west-southwest across western Pennsylvania where it joins the Allegheney River in Clarion County. It is approximately 110 miles long.
Conestoga River rises from headwaters in southern Berks County, then flows southwest through Lancaster County for approximately 50 miles to the Susquehanna River approximately 16 miles north of the Pennsylvania-Maryland state line.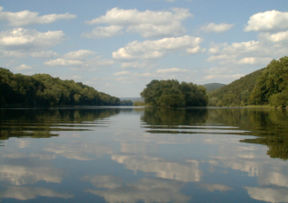 Delaware River, approximately 410 miles long from the head of its longest branch to its end, serves as part of the boundary between Pennsylvania and New York, the entire boundary between Pennsylvania and New Jersey, and the entire boundary between Delaware and New Jersey.
Genesee River rises south of Genesee, Pennsylvania. It is somewhat unusual in that its waters flow north into New York until it empties into Lake Ontario. It features falls at Letchworth State Park (the Grand Canyon of the East) near Portageville, New York. The river was dammed in 1952 at Mount Morris, providing the largest flood control dam east of the Mississippi River.
Juniata River, an especially scenic river as it has a broad, shallow course that passes through mountain ridges and gaps, is approximately 90 miles long. It rises in Huntingdon County in central Pennsylvania, then flows generally southeast to join the Susquehanna River about 15 miles northwest of Harrisburg.
Kiskiminetas River (sometimes called the Kiski), forms in western Pennsylvania at Saltsburg between Westmoreland and Indiana counties. Approximately 27 miles long, it flows generally northwest until it joins the Allegheny River approximately 25 miles northeast of Pittsburgh.
Lackawanna River, approximately 35 miles long, flows through the Pocono Mountains in northeastern Pennsylvania. The river rises in two branches, the west and east branches, each of which is approximately 10 miles long. Closely parallelling each other, both branches flow south and meet at the Stillwater Lake Reservoir, then flow southwest to meet the Susquehanna River approximately 8 miles west-southwest of Scranton, Pennsylvania.
Lackawaxen River, approximately 25 miles long, rises in two branches in western Pennsylvania in Wayne County, then flows through a largely rural area in the northern Pocono Mountains. It flows south-southeast through Prompton Lake Reservoir, past Honesdale, where it was deepened as part of the Delaware and Hudson Canal project, then east to join the Delaware River at Lackawaxen.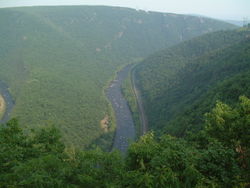 Lehigh River takes a winding 103-mile course from where it rises in the Pocono Mountains of northeastern Pennsylvania, first flowing southwest, then south, then southeast, then northeast until it joins the Delaware River along Pennsylvania's border with New Jersey.
Little Conemaugh River rises along the western slop of the Appalachian Mountains in Cambria County, then flows west-southwest through the mountains for approximately 30 miles until it is joined by the South Fork Little Conemaugh River and the Stoneycreek River at Johnstown to form the Conemaugh River. One of the worst disasters in U.S. history – known as the Johnstown Flood -- occurred on May 31, 1889, when more than 2,200 people drowned after the reservoir failed, sending a wall of water up to 60 feet high down the Little Conemaugh at 40 miles per hour.
Little Juniata River, sometimes called the "Little J," is formed at Altoona by the confluence of several short streams. It begins its 35-mile journey by flowing northeast between the Allegheny Ridge and Brush Mountain, then it turns southeast past Huntingdon and joins the Raystown Branch Juniata River three miles southeast of Huntingdon to form the Juniata River.
Mahoning River, which rises in eastern Ohio, crosses into Lawerence County, Pennsylvania on its 113-mile journey to join the Shenango River near New Castle, Pennsylvania, to form the Beaver River. The river features 15 dams along its pathway, which ranges from generally rural in nature to heavily industrialized and heavily populated.
Monongahela River, one of the largest rivers in the United States that flows generally northward, is navigable its entire length with a series of locks and dams. Also known as The Mon, the river is formed by the confluence of the West Fork River and the Gygart Valley River in West Virginia. It meets the Allegheny River at Pittsburgh to form the Ohio River.

Ohio River flows through or along the border of six states – Pennsylvania, Ohio, West Virginia, Kentucky, Indiana and Illinois -- on its nearly 1,000-mile course. Formed by the confluence of the Allegheny River and the Monongahela River at Pittsburgh, Pennsylvania, the river then flows northwest through western Pennsylvania before turning south-southwest at the triple border of West Virginia, Ohio and Pennsylvania just upstream from Wheeling, West Virginia. It then heads west-southwest through several states before joining the Mississippi River near Cairo, Illinois. The Ohio River has the destinction of being designated as the southern boundary of the Northwest Territory and as such, was the border between the free and slave states during the Civil War era.
Schuylkill River rises in two branches – the eastern branch in the Appalachian Mountains in Schuylkill County and the western branch near Minersville, Pennsylvania. They meet in Pottsville, Pennsylvania. The river, approximately 130 miles long, passes through Reading, then joins the Delaware River at the site of the former Philadelpha Navy Yard northeast of the Philadelphia International Airport.
Shenango River, which rises in Crawford County and flows into the Pymatuning Reservoir, then turns south into Ohio before it returns to Pennsylvania where it flows into Shenango River Lake, formed in 1965 when the U.S. Army Corps of Engineers constructed a dam. It then flows southwest, joining the Mahoning River to form Beaver River southwest of New Castle, Pennsylvania. It is approximately 100 miles long.

Susquehanna River, formed from two main branches, one of which rises in New York and one of which rises in Pennsylvania, is the longest river on the East Coast. At approximately 410 miles long, it drains a large watershed within the Allegheny Plateau of the Appalachian Mountains as it flows across the heartland of Pennsylvania. It passes downtown Harrisburg (where it is nearly a mile wide and can be seen from the state capitol), and flows southeast. It crosses into the northern part of Maryland and finally enters the northern end of the Chesapeake Bay in Harford County, Maryland.
Tioga River, approximately 55 miles long, rises in the mountains of western Bradford County and flows southwest through Tioga State Forest before turning north through Tioga Reservoir. It crosses into Steuben County, New York, near Lawrenceville, Pennsylvania, joining the Cohocton River to form the Chemung River.
Youghiogheny River winds across parts of three states – West Virginia, Maryland and Pennsylvania – for approximately 135 miles. It rises in Preston County in northern West Virginia, then flows north-northeast into Garrett County, Maryland, roughly parallelling the West Virginia border, separated by approximately 3 miles It then enters southwestern Pennsylvania on the border between Fayette and Somerset counties, flows northwest and joins the Monongahela River at McKeesport. Approximately 6 miles north of the Pennsylvania border, the river is held by an 184-foot high dam to form Youghiogheny River Lake, which stretches into northern Maryland.